<!— responsive —>
There have been some common beliefs that burnt food could possibly cause cancer, so many people cut burnt part when eating meat. Today, I will introduce if the burned food reaily can cause cancer.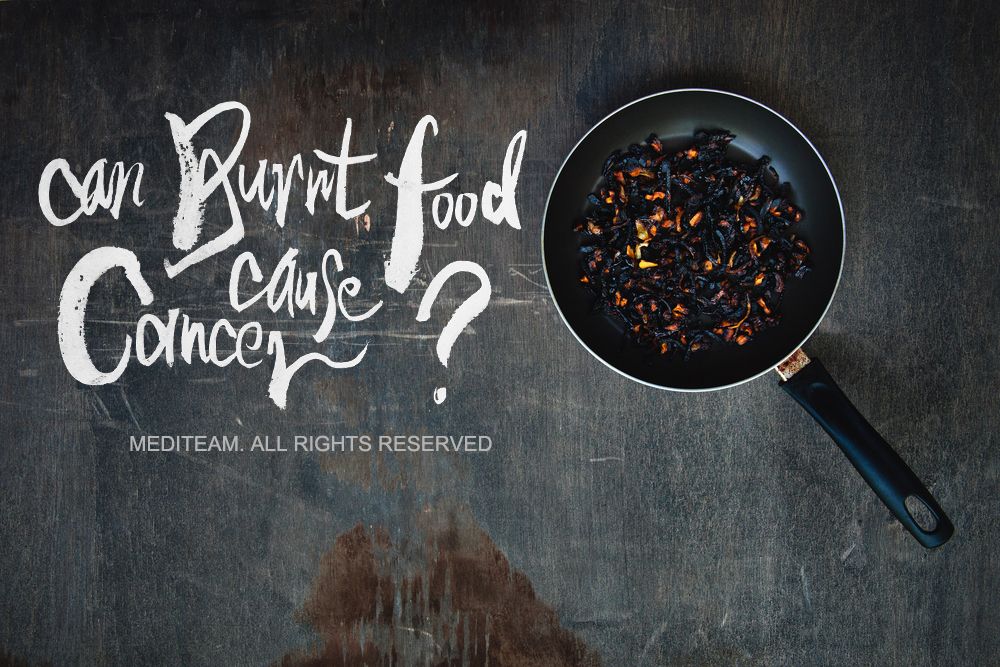 ---
1. Burnt meat
"Carcinogens formed when meat is burnt, were indentified in laboratory experiments".
Burning the muscular parts (including beef, pork, fish) produces heterocyclic amines (HCA) and polycyclic aromatic hydrocarbons (PAH). Both are compounds that have been found to be carcinogenic in laboratory experiments.
HCA is produced when amino acids, sugar, creatine react at high temperatures. PAH is formed when fat and jucies of meat are grilled directly on fire.
Both of these substances are metabolized and activated by enzymes in our bodies, and every person have different levels of the enzymes. So, even if same amount of meat is consumed, the risk of carcinogenesis varies from person to person.
"Animal studies have shown that they can induce cancers".
Both HCA and PAH have been shown to cause cancer in animal experiments. In studies with HCA, it could induce breat cancer, colorectal cancer, liver cancer, skin cancer, lung cancer, and prostate cancer. Also, studies with PAH showed that it is related to leukemia, digestive cancer, and lung cancer. However, in fact, this animal studies were performed by feeding HCA and PAH directly to animals, and it would be thousand times the amount that can be consumed by food we actully eat. It is not easy to be exposed to these substances like in these experiments unless you enjoy eating the burnt portion of burnt meat everyday.
There is not enough evidence yet for humans".
Unfortunaltely, there have not been studies directly related to human. Obviously, it is ethically impossible to perform a experiment exposing the possible carcinogenic substances to human. In addition, in would be impossible to quantify HCA or PAH produced in burnt meat through epidemiological studies.
However, there have been several epidemiologic studies on the relationship between 'cooked meat' and cancer. People who have high consumption of well-done, fried, or grilled meats were associated with higher risk of colorectal cancer, rectal cancer, and prostate cancer.
---
2. Burnt starchy food
Starch is a polysaccharide compsed of glucose, a substance synthesized by plants and contained in potatoes, sweet potatoes, breads, etc. We usually eat them bake or fried and sometimes eat burnt portion. When these starchy foods are overcooked or burned, a substance called acrylamide is produced wich has been identified as a carcinogen in animal studies.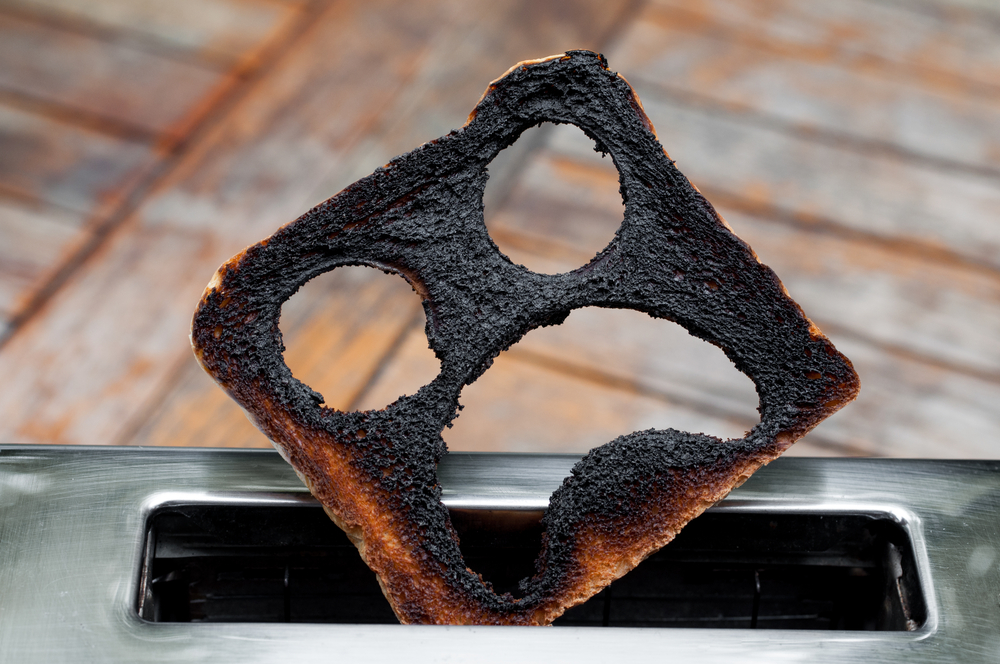 'Acrylamide is produced when toasts or potatos are overly cooked'.
Acrylamide is produced by the reaction of monosaccharides and amino acids such as asparagine when toasts or potatos are cooked at temperatures above 120 degrees Celsius. If they are overly cooked, they become brown, or black color, which is related to many amounts of acrylamide.
'Acrlyamide have been identifed as a carcinogen in animal studies'.
Animal experiments have shown that acrylamide can cause cancer when feeding acrylamide. But there is no clinical studies showing that acrylamide can cause cancer in humans. Acrylamide is also one of the components of cigarettes, so burned toasts or potatoes might have a very little effect compared to smoking. Also, acrlyamide is detected in sokers' blood 5 times higher than non-smokers.
---
Burnt food contains carcinogens identified in laboratory experiments and animal studies. However, exposure to people in the doses used in these experiments is almost impossible, and there are no clinical studies proving the substances to be carcinogenic to humans. Therefore, it is difficult to conclude that they are carcinogenes at this moment.
In this regard, some of you may insist that burnt food is okay because the exposure can be too little to induce carcinogenesis. However, the carcinogenesis generally is considered as a 'probabilistic effect' and does not have a 'threshold'. Therefore, I think reducing exposure to any possible carcinogens as low as you can is better for avoiding cancer.
---
Reference


Sugimura T, Wakabayashi K, Nakagama H, Nagao M. Heterocyclic amines: Mutagens/carcinogens produced during cooking of meat and fish. Cancer Science 2004; 95(4):290–299.


Cross AJ, Ferrucci LM, Risch A, et al. A large prospective study of meat consumption and colorectal cancer risk: An investigation of potential mechanisms underlying this association. Cancer Research 2010; 70(6):2406–2414.


Anderson KE, Sinha R, Kulldorff M, et al. Meat intake and cooking techniques: Associations with pancreatic cancer. Mutation Research 2002; 506–507:225–231.


Cross AJ, Peters U, Kirsh VA, et al. A prospective study of meat and meat mutagens and prostate cancer risk. Cancer Research 2005; 65(24):11779–11784.



아래 글들도 읽어보세요.
---