<!— responsive —>
"We expect to treat patients from 2021 by introducing heavy particle therapy equipment overseas". - Yonhapnews, 2017 Sep 25.
Interest in the heavy particle therapy or heavy ion therapy is rising along with the promotion of construction project called "dream cancer treatment machine" - a heavy particle accelerator. Although the project development of the heavy particle accelerator had been carried out with an investment of 200 million dollars (started in 2010), it is unclear when the treatment will be possible due to the budget issue and operation right issues. Occasionally, some cancer patients who have failed the conventional treatment pay more than a hundred thousand dollars and go to japan to get the heavy ion therapy in hope.
Let's take a look at what this heavy ion therapy machine is all about and if it is deserved to be called 'dream cancer treatment machine'.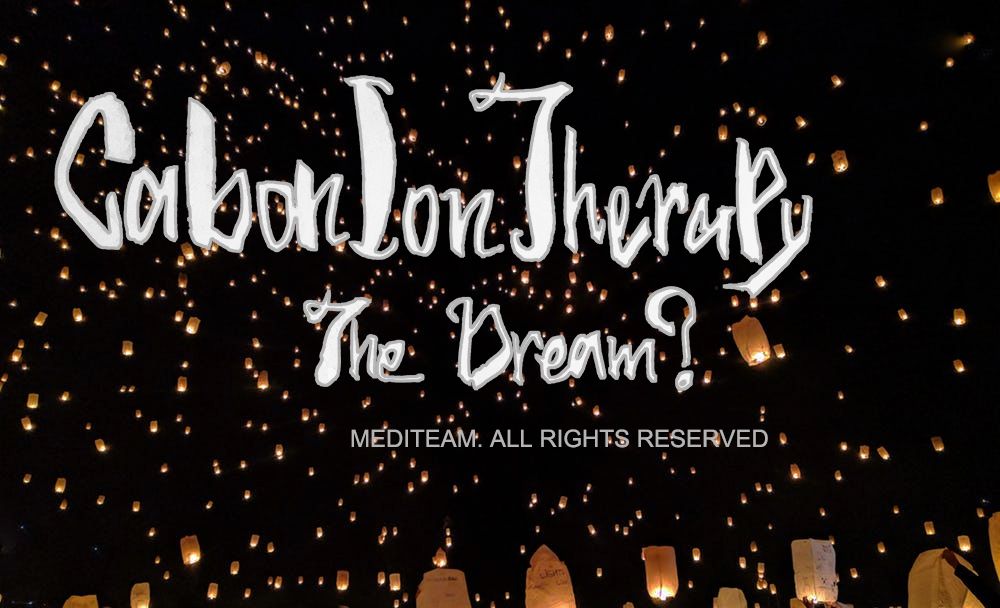 ---
1. What is Heavy Ion Therapy?
In the past, atoms were thought to be the smallest unit of particles that could not be decomposed anymore. However, it was elucidated that the atoms are again composed of electrons and nuclei in the early 20th century, and the nuclei are again made up of protons and neutrons. Several years later, even proton has been found to have more internal structures, and these all particles are called elementary particles.
Elementary particles can be classfied according to their mass, that is; lepton, meson, and baryon. Baryon is divided into nucleon such as proton and neutron, and hyperon that has a mass larger than a neutron. Currently, there is a proton therapy unit at National Cancer Center in Ilsan city of Korea, and it plays a important role in cancer treatment.
Heavy ion therapy uses hyperons which are heavier than protons. The most commonly used heavy ion is Carbon ion of which mass is 12 times heavier than proton.
---
2. Discovery of heavy ion therapy
The use of charged particles such as protons and ions for cancer treatment was first proposed by Dr. Wilson in 1946. A decade later, the Lawrence Berkeley Laboratory (LBL) in California started the treatment for actual patients. They treated patients with protons and light ions such as helium ions (atom number = 2) at first. From 1974 to 1992, 433 patients were treated with neon ions (atom number = 10), and then the center closed.
In the meantime, few patients treated with carbon ions (atomic number = 12), which is the first experience of heavy ion therapy.
---
3. What is the advantages of the heavy ion therapy?
The benefits of heavy ion therapy are summarized as follows.


Excellence in radiation dose distribution of carbon ion





The amount of radiation irradiated to normal tissues until cancer is 70% less than that of conventional X-rays, and 40% lower than that of proton therapy.




After reaching the cancerous site, there is almost no radiation damage to the normal tissues behind.




(No damage in the case of protons, but a small amount in the case of carbon ions)




Due to the better dose distribution, there is no need to use several different directions of treatment like in photon radiotherapy, which shortens the treatment time.





Excellence in relative biologic effectiveness of carbon ion




The same radiation dose of carbon ion is 2-3 times more effective in treating cancer than other types of radiation.


For the above reason, the radiation dose to body for cancer treatment is relatively smaller.


The graph below shows the radiation dose distribution of carbon ion and other types of radiation. Because our bodies are similar in density to water, we usually use water to do experiments in terms of radiation physics. In case of 4MV and 10MV X-rays, 30-100% of the radiation dose is distributed throughout the body, while in case of carbon ions, most of radiation is concentrated in a specific region (called Bragg peak, blue line).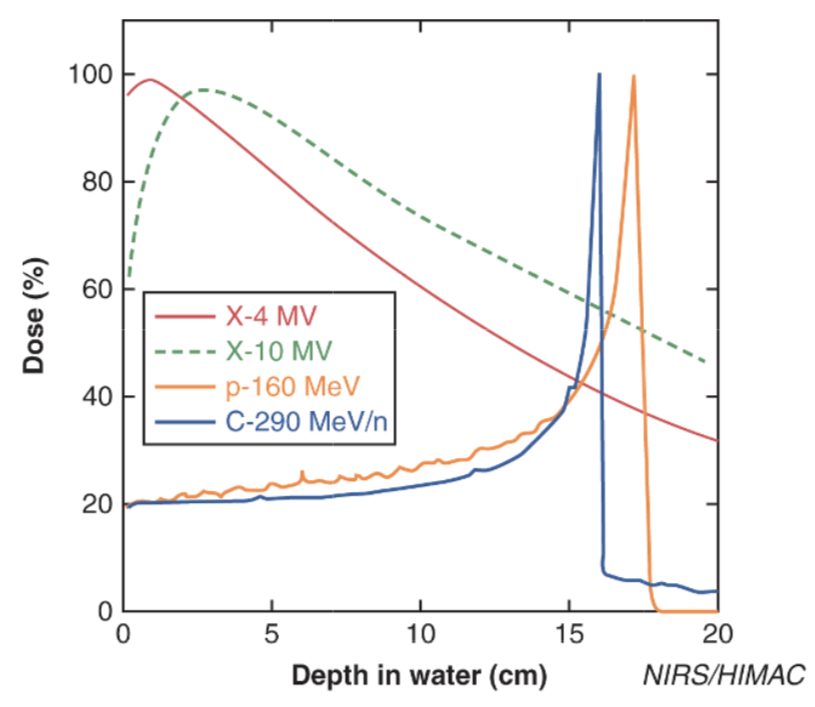 Figure. Bragg peak (photons versus protons versus carbon ions)
Reference: Perez and Brady's Principles and Practice of Radiation Oncology, 6th Edition. Chapter 20, Carbon Ions.
When a number of carbon beams are superimposed, the following dose distribution appears. This is called SOBP (Spread-out Bragg peak). By adjusting the plateau to be placed in tumor site, it is possible to concentrate high dose radiation only on the cancer.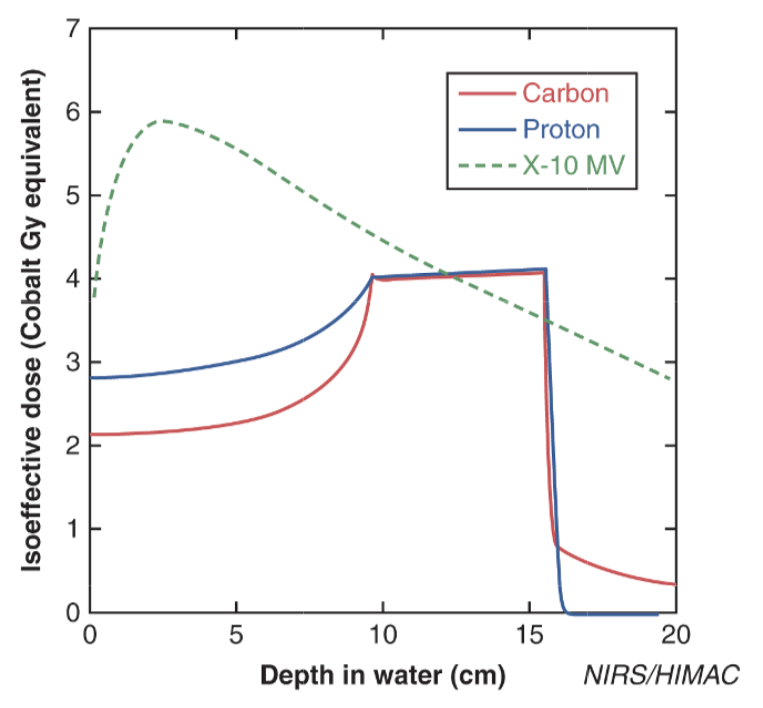 Figure. Spread-out Bragg peak (photons versus protons versus carbon ions)
Reference: Perez and Brady's Principles and Practice of Radiation Oncology, 6th Edition. Chapter 20, Carbon Ions.
These characteristics are also found in existing proton therapy (running in National Cancer Center in Korea), and are already being used for special patient groups such as childhood cancer. Due to the high relative biologic effectiveness and high linear energy transfer of carbon ions, carbon ion therapy is expected to treat cancers that have resistance to other radiations.
---
4. In cancers can carbon ion therapy be used?
Currently, there are limited data available in terms of effectiveness of carbon ion therapy. Several clinical trials are ongoing and are being applied to cancers which are known to have a limited response to conventional radiation therapy.


Head and Neck cancer




Good clinical outcomes were reported in radiation-resistant tumors such as adenoid cystic carcinoma, mucosal melanoma, sarcomas.


National Institute of Radiological Sciences (NIRS) in Japan reported better clinical outcomes in terms of local control (3yr, 92% vs 24%) and overall survival (3y, 74% vs 43%) compared to those of photon radiotherapy when treating head and neck sarcnoma.


Heidelberg Ion-Beam Therapy Center (HIT) in Germany radiotherapy reported better clinical outcomes in the treatment for adenoid cystic carcinoma with a combination of photon radiotherapy and a carbon ion boost. Local control rate (4yr, 78% vs 25%), disease-free survival (4yr, 53% vs 23%), and overall survival (4yr, 53% vs 23%) were higher when carbon ion boost was used.




Sarcoma and chordoma




Carbon ion therapy showed less side effects and higher local control and survial rates in patients with radiation-resistant tumors such as osteosarcoma, chordoma, chondrosarcoma and retroperitoneal sarcoma.




Meningioma




Both HIT and NIRS reported higher local control and survival in treatment with carbon ion therapy for patients with meningioma.




Astrocytoma and glioblastoma




NIRS reported excellent clinical outcomes in treatment for grade 2 astrocytoma.


HIT is performing a phase II clinical trial investigating effectiveness of carbon ion therapy in patients with glioblastoma.




Lung cancer




Early stage non-small cell lung cancer has been treated with lung resection in the past, it has recently become possible to obtain similar treatment outcomes using radiosurgery without surgical sequlae. Clinical trials are ongoing by many research groups, and it is expected that carbon ion therapy may be also used as an alternative.




Liver cancer




Treatment outcomes of unresectable liver cancer are unsatisfactory. Unresctable liver cancers are being treated with chemoemblization, radiation therapy, targeted agents, etc. In case of carbon ion therapy, the local control rate at the treatment site was 94-96%.




Prostate cancer




A clinical trial with carbon ion therapy 12 radiation fractions in 3 weeks for prostate cancer is ongoing in NIRS. Usually, prostate radiation therapy takes 7-8 weeks. The preliminary results of carbon ion prostate therapy with 3-week schedule showed a higher disease-free survival when compared with standard therapies.





Besides, carbon ion therapy has been also used in recurrent rectal cancer, pancreatic cancer, and so on.




​



---
5. Where is carbon ion therapy available?
There are currently four units in Japan, one in Germany, one in Italy, and one in China. Constructions of new carbon ion machines are undergoing in Korea and Austria.
---
After reading this article, what did you think about carbon ion therapy?
In my opinion, I do not think it is superior for all types of cancers, but I think it can definitely help in cancers that do not respond in conventional therapy. I hope that it will be able to treat the intractable cancer patients in Korea as soon as possible.
---
Reference



Yonhapnews 2017/09/25, "서울대병원 기장에 의료용 중입자가속기도입...2021년 암치료"




Perez and Brady's Principles and Practice of Radiation Oncology, 6th Edition. Chapter 20, Carbon Ions.




Jingu K, Tsujii H, Mizoe JE, et al. Carbon ion radiation therapy improves the prognosis of unresectable adult bone and soft-tissue sarcoma of the head and neck. Int J Radiat Oncol Biol Phys2012;82(5):2125–2131




Schulz-Ertner D, Nikoghosyan A, Didinger B, et al. Therapy strategies for locally advanced adenoid cystic carcinomas using modern radiation therapy techniques. Cancer 2005;104:338–344.




Adeberg S, Hartmann C, Welzel T, et al. Long-term outcome after radiotherapy in patients with atypical and malignant meningiomas—clinical results in 85 patients treated in a single institution leading to optimized guidelines for early radiation therapy. Int J Radiat Oncol Biol Phys 2012;83(3):859–864.




Miyamoto T, Baba M, Sugane T, et al. Carbon ion radiotherapy for stage I non-small cell lung cancer using a regimen of four fractions during 1 week. J Thorac Oncol 2007;2:916–926.




Tsuji H, Mizoguchi N, Toyama S, et al. Carbon ion radiotherapy for prostate cancer. Proceedings of NIRS-ETOILE 2nd Joint Symposium on Carbon Ion Radiotherapy, November 25–27, 2011, Centre ETOILE, Lyon, France.




​




아래 글들도 읽어보세요.
---