<!— responsive —>
Hello? I am @radiologist.
Have you heard about CT colonography?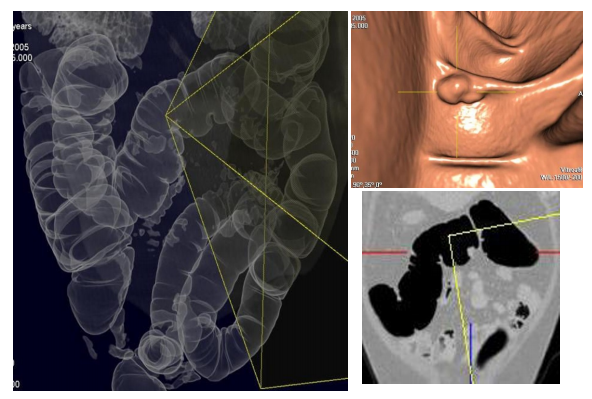 The example of CT colonography. There is a small polyp.
I think you probably do not have much. This image technique is getting a CT and reconstructing the image to find a lesion in the large intestine, like colonoscopy.
---
METHOD of CT COLONOGRAPHY:
1) Insufflating air through the inserted rectal tube.
2) Inflating the colon to get a CT scan.
3) Reconstructing the CT images to find a lesion of colon.
There are 2D and 3D methods for reconstructing and reading images. Both are used to read the images.
Even if the endoscope is not inserted directly into the colon, the radiologist can evaluate the colon by moving the images like performing real colon endoscopy. Therefore, it is called 'virtual colonoscopy'. Patients just have to take a short CT scan after preparation (rectal tube insertion and inflation of the colon).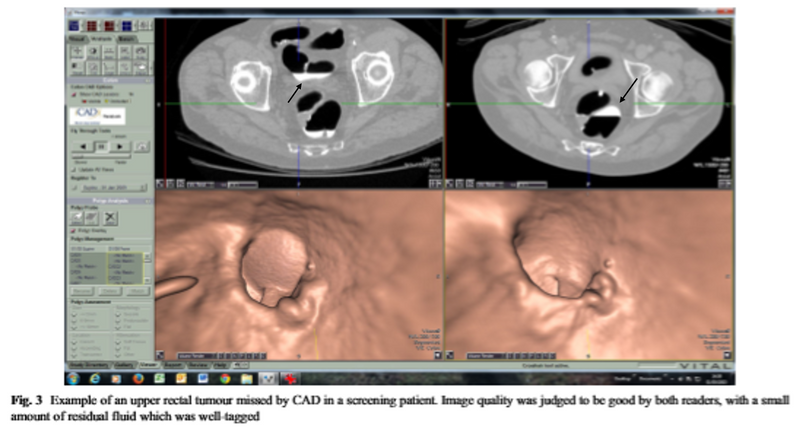 In the above CT image, a black arrow indicates the tagged fecal materials(interfering image reading) with contrast agent. These are automatically excluded and 3D images are reconstructed.
Especially, one of the most important aspects of image interpretation is cleaning of the colon. Remaining fecal materials are similar to a polyp and can be diagnosed as false positive. Water in the colon is excluded from the image during reconstruction and may result in false negative. Cleaning the colon is the same as for colonoscopy.
Usually, about 4 liters of polyethylene glycol is taken on the day before the test. Recently, a small amount of contrast agent is taken to differentiate water or remaining feces. They are distinguishable because it looks white due to contrast agent. This process is called "Fecal Tagging".
The next important thing is to inflate the colon. Again, it is the same as for colonoscopy. Carbon dioxide or room air is usually used. This is usually done with an automatic air injector.
Reading requires a well-trained radiologist, because proficiency and experience is related to accuracy.
Compared to colonoscopy, CT colonograthy has the advantage of not inserting an endoscope. It also takes less time (only a short CT scan is needed), and radiologists can recreate the image at any time. They can also evaluate the other abdominal organs in CT.
If colonoscopy cannot be performed or if there is colonic obstruction, you can replace colonoscopy with CT colonography. The disadvantage of CT colonography is that biopsy or resection of a polyp cannot be performed, but it is possible in colonoscopy.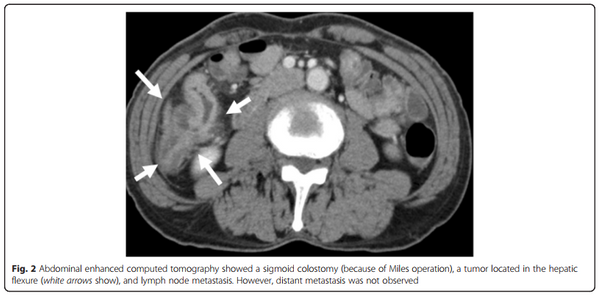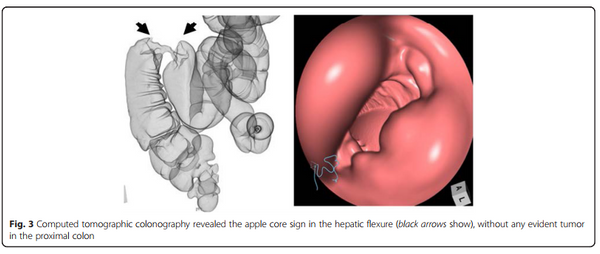 The hepatic flexure colon cancer is seen.
Below is a 3D reconstructed screen. Due to the cancer, the colon is narrow.
If so, what about the diagnostic value of CT colonography compared to colonoscopy?
According to one meta-analysis, polyps bigger than 10 mm had a sensitivity of 83.3% vs. 87.9% and a specificity of 98.7% vs. 97.6%, which means a similar result. However, when including polyps larger than 6 mm, sensitivity is 68.1 % vs. 78.6 % and specificity is 75.9 % vs. 82.9 %, which means CT colonography is slightly lower.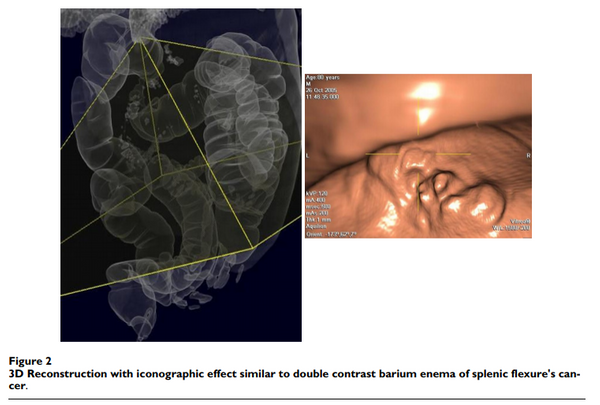 The example of splenic flexure colon cancer detected by CT colonography.
The European Society of Gastrointestinal Endoscopy and The European Society of Gastrointestinal and Abdominal Radiology have approved CT colonography as a radiologic examination for colorectal or rectal tumors. Especially if colonoscopy is insufficient, CT colonography is recommended on the day or the next day. Moreover, CT colonography may be considered as an evaluation after endoscopic resection and as a preoperative evaluation in obstructive colon or rectal cancer. If colonoscopy is not possible, CT colonography is recommended for the examination of colon or rectal cancer. Colonoscopy is recommended if a polyp larger than 6mm is found on CT. When colonoscopic polypectomy is not done, CT colonography will be required to follow up. Finally, CT colonography for diagnostic purpose is not recommended for those who need a simple screening test or who have a family history of colon cancer. In spite of these constraints, when patients wants CT colonography, enough information about advantages and disadvantages should be provided.
Although the diagnostic and therapeutic value of colonoscopy is still higher, CT colonography is still valuable.
As I mentioned above, it is alternative for patients who cannot have colonoscopy, and it has benefits in terms of time and discomfort. In the West, colonography is often more expensive, making it easier to perform CT colonography. If the image reconstruction method and quality of images improve, I think colonoscopy will not be essential in the future.
Reference
[KR] 대한복부영상의학회. 복부영상의학. 일조각 2012.
Cristiano Spada et al. Clinical indications for computed tomographic colonography: European Society of Gastrointestinal Endoscopy (ESGE) and European Society of Gastrointestinal and Abdominal Radiology (ESGAR) Guideline. Eur Radiol (2015) 25:331–345.
Margriet C. de Haan eta al. Diagnostic value of CT-colonography as compared to colonoscopy in an asymptomatic screening population: a meta-analysis. Eur Radiol (2011) 21:1747–1763.
Ayso H. de Vries et al. Primary uncleansed 2D versus primary electronically cleansed 3D in limited bowel preparation CT-colonography. Is there a difference for novices and experienced readers? Eur Radiol (2009) 19: 1939–1905.
Daisuke Ito et al. Transverse carcinoma after Miles operation: a case in which preoperative evaluation was assisted by computed tomographic colonography. World Journal of Surgical Oncology (2016) 14:118.
Marco Coccetta et al. Virtual colonoscopy in stenosing colorectal cancer. Annals of Surgical Innovation and Research 2009, 3:11.
Images without source; from Shutterstock.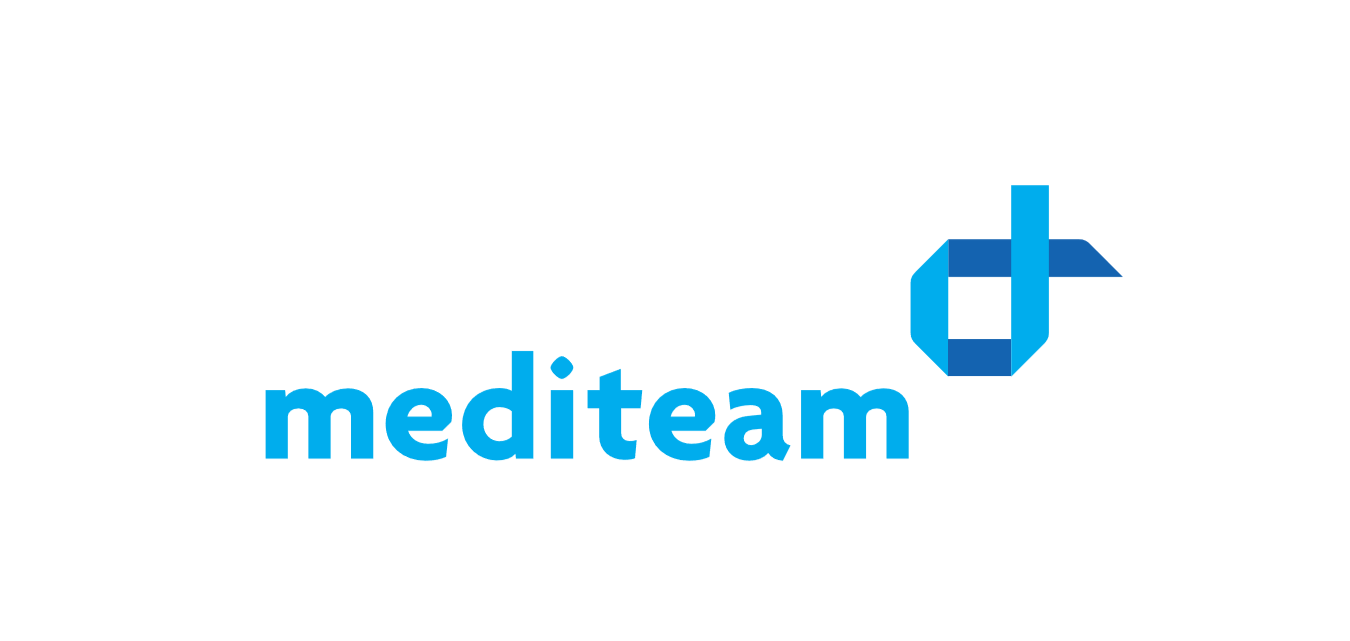 The First STEEM Medical Magazine written by Doctor
https://mediteam.us
---